NELSON TO KELOWNA
HWY.3/33.D
Please arrive 10 minutes before posted times.
Our bus will "NOT" turn around!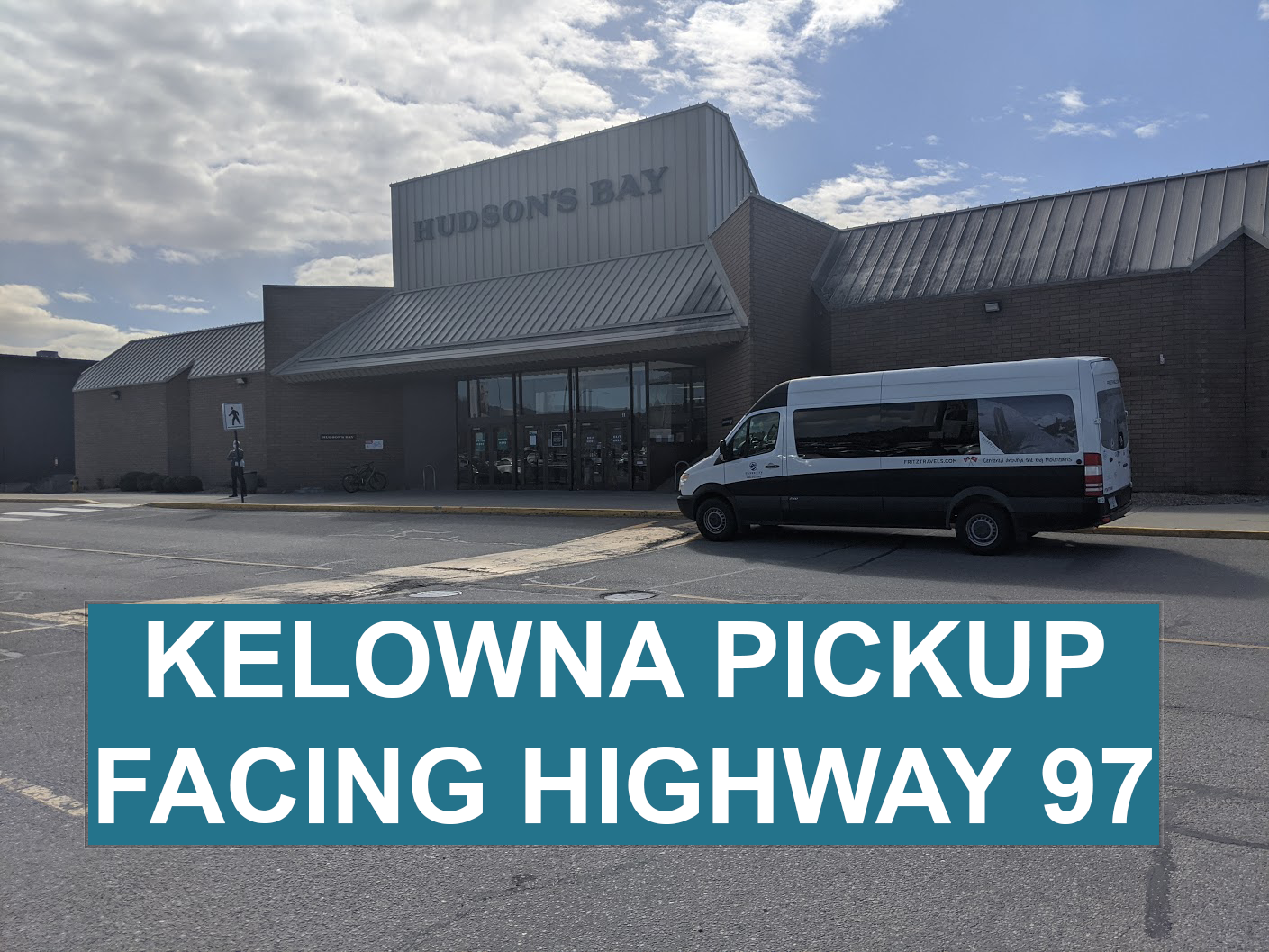 KELOWNA ORCHARD PARK MALL (HUDSON'S BAY ENTRANCE, FACING HIGHWAY 97)
KELOWNA TO NELSON
HWY.3/33.R
What if I am late or at the wrong location?
Please be sure you are closely examining our destinations page and taking note of our pickup locations as if we are unable to locate you at time of boarding the bus will be departing without you.
Trail Passanger pickup options "Reduce travel time"
Option #1 – Trail A&W 5:15AM Pickup
Trail A&W 5:15PM Dropoff
Option #2 – Castlegar A&W 7:00AM Pickup
Castlegar A&W 3:45PM Dropoff
* Passengers will need to secure their own transportation between Trail and Castlegar if not choosing option #1
"Cut off" for buying tickets
Next day bookings must be in before NOON
Do i need to bring my ticket?
Passengers are no longer required to print tickets/receipts and display to driver, simply display your photo ID and we will confirm your name with our manifest.
Can I reschedule my trip?
Absolutely we have a reschedule page but it is currently being worked on, for all requests please email support@fritztravels.com with your ticket information please title/subject the email "Reschedule request" all rescheduling fee's are being waived at this time.
Last updated "March 5 2021"
NO REFUNDS
Silver city stagelines has a strict no refund policy, we offer trip
rescheduling
 for more information please contact support or book an "
Advanced Ticket
" We must be notified a minimum of 24 hours prior to both the original date and new travel date.
Ticket Prices
Please feel free to use our booking page as a quote system to map out what your Ticket/Tickets will cost.
Our Booking calendar page.
Minors between 8 – 16 years of age
Minors between 8 – 16 years of age (when not accompanied by a legal guardian) must have pickup arrangements made in advance, legal guardian must pickup with ID ages between 8-16
Passengers that are harassing other passengers will be asked to leave the bus.
Passengers that are harassing other passengers or the driver will be asked to leave the bus at the next appropriate stop with no refund.
Can I bring my Pet?
Silver City Stagelines has a strict no animals on board policy. Only registered, certified service dogs will be permitted with the proper paperwork.
Can I bring my Wheelchair?
No. Not a wheelchair accessible vehicle.
May I Smoke or Vape?
No smoking any nicotine or non nicotine devices including cigarettes cigars vaporizers and smoke/vapor creating methods within 15 meters of the bus, you will be given 2 warnings and if the smoking continues within distance of the bus and other passengers you will be asked to leave the bus at the next stop.
Can I be picked up or dropped off at the airport?
No, we currently are unable to drop-off or pickup passengers at the airport, you must take a taxi or public transit to our approved orchard park mall pickup location.
Rules on Cannabis
Passengers are not permitted to board the bus under the influence of drugs or alcohol.