The Kootenay Freeride Tour
We are the Specialists! Private and custom Ski Tours Group size 1-8 Guests.
3+ stars Motel/Hotels in convenient locations. (Continental Breakfast included)
Fritz will help you to choose some of the best local restaurants and make the reservations.
Tour Length: 15 Days, 10 Skiing
Optional Activities: Heli/cat skiing with local companies in Revelstoke and nelson should be booked in advance from your home country.
Ski/Board Ability: Advanced to Expert
Get straight down to business on your Kootenay Powder Highway ski vacation with this epic 15 day guided ski tour, visiting lake Louise Resort in Alberta before heading over to British Columbia for world famous skiing! Your ski tour starts in Calgary, where your guide will pick you up and whisk you away to a world of powder, hot springs and good times!
Booking Deadlines
Janurary Tour:November 30th, 2022
Feburary or March Tour:December 31, 2022
Payment Information
January Tour: 50% Deposit taken at time of booking and reminder December 15, 2022
February/March Tour: 50% Deposit taken at time of booking and reminder January 15, 2023
INCLUDED
INCLUDED
10 Ski Days
Guiding expertise of Fritz at the Ski resort's
Transportation in Sprinter Bus
14 night's accommodation in 3+ star Hotels/Motels( double or single occupancy) with Continental Breakfast included.
10 Lift Tickets
Park passes
Pickup / Drop off at int airport calgary
Included is also 2 visits to Hotsprings (Halcyon & Ainsworth)
WHAT'S NOT INCLUDED
WHAT'S NOT INCLUDED
5% Local Tax (HST)
Rentals and lessons
Personal meals and alcohol
Travel insurance
Optional extra activities (Heli/catskiing, Hockey game, ect)
Guide gratuities (optional) $10 per person, per guide, per day is typical
Optional personal transportation around during "free time"
Trip Cancellation
Travel/Medical Insurance
Getting to and from Calgary Airport
Travel Expenses "Before/After Tour"
Getting around town "Durring free time"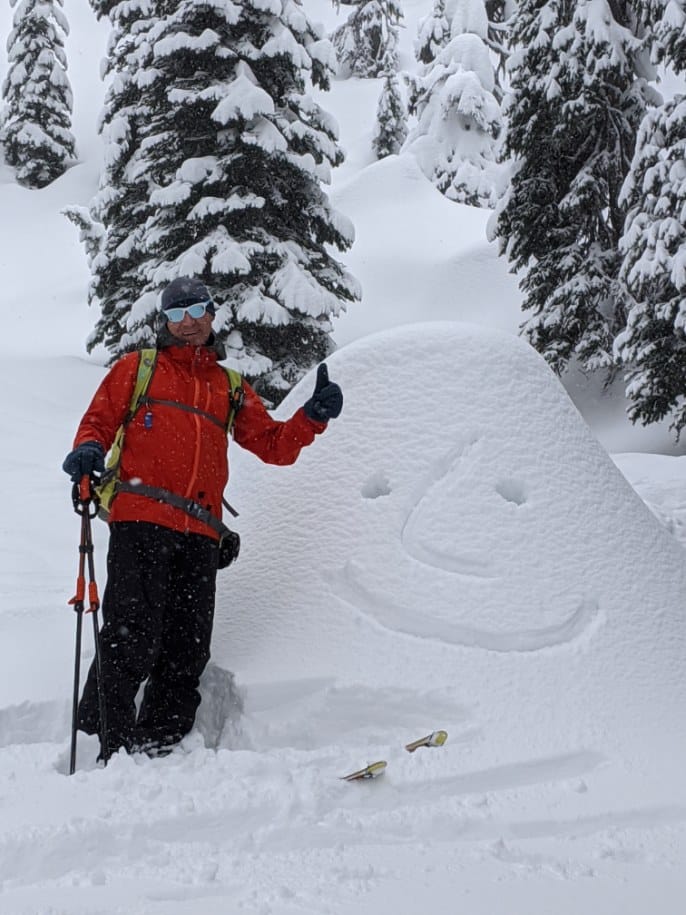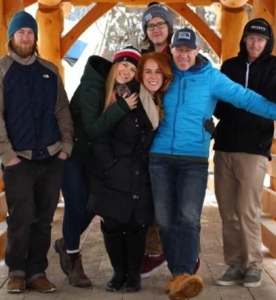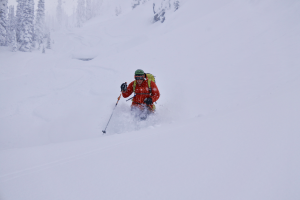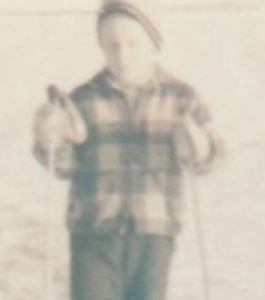 Meet our Guide
Fritz grew up in the beautiful Bern area of Switzerland, right next to the Bernese Alps. This area is known for having some of the best skiing, mountaineering and climbing in the world. Fritz had a huge passion from a very early age for farming and exploring the Swiss Alps by ski and foot. He explored the Swiss Alps further during his service with the Swiss Army Mountain Division. His passion for the outdoors is year-round; in the winter he does backcountry ski guiding, ski mountaineering with family members and friends. In the summer you can find him in the mountains on hiking/scrambling trips. Fritz immigrated to Canada with his young family 36 years ago. His family operated an award winning dairy farm in Ontario and Manitoba for 25 years. After moving to the little Kootenay mountain town of Kimberley, Fritz took many guiding/avalanche/wilderness first aid courses and began guiding. Between living in the West Kootenays and part-time in Kimberley, he's had endless opportunities to scout out all the secret spots at the ski hills and backcountry. He also owns/operates a successful bus company out of Trail, providing a much needed inter-city bus route between the West Kootenay/Boundary Region to Kelowna. Fritz has a huge passion for taking clients out in the Kootenay backcountry to show them this beautiful part of BC, much like he had as a child exploring the Bernese Alps. He is always very positive about life, and when asked what his biggest accomplishment in life has been so far, he says, "Being the father of my 5 cool, hip children."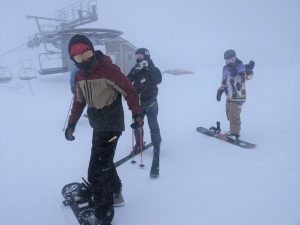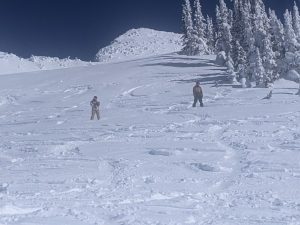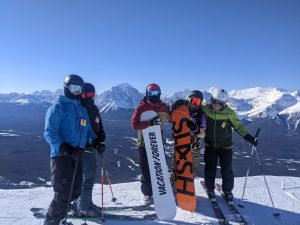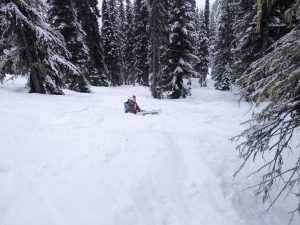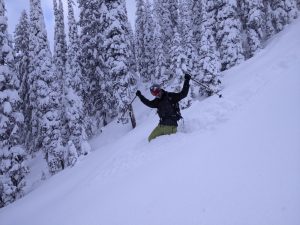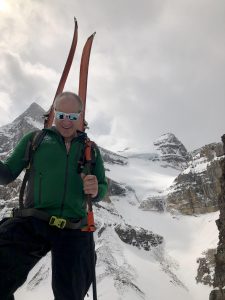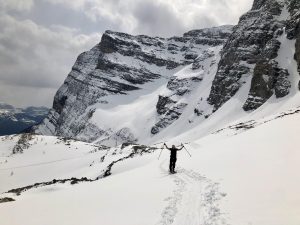 More convincing?
Colin Sutherland - Liberty Skis
My name is Colin Sutherland and I am the Marketing and Team Manager at Liberty Skis. We have had the pleasure of working with Fritz Keller for the past few years. He is our go-to guide when we are skiing in the Selkirk Mountain Range. He has over twenty years of experience skiing and exploring the Selkirk Range. Fritz's resume and accomplishments throughout his life is absolutely incredible. Growing up in the Swiss military and spending the remaining of his life guiding mountains around the globe.
We use Fritz as our guide on our Liberty team trips in BC for several reasons. The first one is his attention to detail. He spends hours the evening before explaining the terrain, our plan, and the snow conditions. The second reason we love to work with Fritz is safety. Fritz is a father to five children and he wants to make sure that he can watch his kids grow old. His years of experience in the mountains helps my team of athletes make smart decisions. Fritz is the first person to go through snow safety and proper practices with everyone before entering the backcountry.
Once we get to the backcountry he takes the time to explain to the team the avalanche danger and the signs that he is seeing when we dig pits. Fritz also carries a 50-pound pack filled with enough supplies to keep everyone safe. The third reason that we love to use Fritz is his energy. Ear to ear smiles, high fives, and loud screams of joy will fill your day when you ski with Fritz. He is the most humble and grateful person I have ever meet in the ski industry. He will always put others first and makes sure that everyone is having an amazing time. The last reason that we love to work with Fritz is his knowledge of the area. Whether stability is good or poor Fritz has a safe option for everyone in our group.
We will continue to use Fritz for our backcountry trips in BC. I cannot wait until the next time I get the opportunity to spend a day in the mountains with him.
With appreciation.
Colin Sutherland Liberty Skis
HOVER MOUSE / CLICK IMAGES FOR INFO
Calgary
Calgary, a cosmopolitan Alberta city with numerous skyscrapers, owes its rapid growth to its status as the centre of Canada's oil industry. However, it's still steeped in the western culture that earned it the nickname "Cowtown,"
Lake Louise
Lake Louise is a hamlet in Banff National Park in the Canadian Rockies, known for its turquoise, glacier-fed lake ringed by high peaks and overlooked by a stately chateau. Hiking trails wind up to the Lake Agnes Tea House for bird's-eye views. There's a canoe dock in summer, and a skating rink on the frozen lake in winter. The Lake Louise Ski Resort features a wildlife interpretive center at the top of a gondola.
Revelstoke
The city is situated on the banks of the Columbia River just south of the Revelstoke Dam and near its confluence with the Illecillewaet River. East of Revelstoke are the Selkirk Mountains and Glacier National Park, penetrated by Rogers Pass used by the Trans-Canada Highway and the Canadian Pacific Railway. South of the community down the Columbia River are the Arrow Lakes, Mount Begbie, and the Kootenays. West of the city is Eagle Pass through the Monashee Mountains and the route to Shuswap Lake.
Halcyon Hot Springs
Halcyon Hot Springs, also known as Halcyon Hot Springs Resort & Spa, is a popular travel destination in British Columbia, found 35km north of Nakusp, BC on the Upper Arrow Lake. Halcyon Hot Springs Resort & Spa is open to the public year round and has two natural hot spring pools, a cold plunge pool and a seasonal swimming pool, located directly on the beautiful Upper Arrow Lake. The Resort is equipped with a full service restaurant, 'The Kingfisher', that is open for breakfast, lunch and dinner. There is a spa on site and 45 cabins, cottages & chalets dotted in the trees around the lake.
Nelson
Known as "The Queen City", and acknowledged for its impressive collection of restored heritage buildings from its glory days in a regional silver rush, Nelson is one of the three cities forming the commercial and population core of the West Kootenay region, the others being Castlegar and Trail. The city is the seat of the Regional District of Central Kootenay. It is represented in the provincial legislature by the riding of Nelson-Creston, and in the Parliament of Canada by the riding of Kootenay—Columbia.
In the winter, skiing and snowboarding are Nelson's primary outdoor activities. Thirty minutes south of town is the Whitewater Ski Resort, which provides access, (via one triple chairlift, two double chairlifts and a handle tow), to 396 vertical metres of beginner to advanced terrain. The resort also provides access to hundreds of kilometres of off-piste skiing and back country touring. The Nelson area is home to over 20 cat-skiing, heli-skiing and ski-touring operators, and hundreds of kilometres of cross-country trails are available for the Nordic skier. In 2012 Nelson and Rossland, a small city south-west of Nelson, were jointly voted best ski locales in North America by readers of California-based Powder Magazine.
Ainsworth Hot Springs
Whether you experience Ainsworth Hot Springs in the pool or cave, you are sure to enjoy an experience like no other. The hot springs are nestled in the Kootenay region of British Columbia, overlooking the majestic Kootenay Lake.
Kimberley
Home to the Kimberley Alpine Resort, a ski area and Kimberley's Underground Mining Railway that features a 750-foot-long (230 m) underground mining interpretive centre complete with operational 3 ft (914 mm) narrow gauge railway equipment. Recreational pursuits include world-class skiing, snowboarding, snowmobiling, fishing, whitewater rafting, kayaking, biking, hiking and golfing on championship golf courses. The city has the largest urban park in Canada. At 1,977 acres (800 ha), the Kimberley Nature Park is the largest incorporated park in Canada.
Fun fact: The city has the "largest freestanding cuckoo clock in Canada".
Lake Louise Ski resort
The Lake Louise Ski Resort is a year-round resort destination located in Banff National Park, Alberta, Canada.
Revelstoke Mountain Resort
Currently, the resort has a 1713m (5620ft) vertical drop, Revelstoke has the longest vertical descent of any ski resort in North America. In terms of size, it is about the same as other major resorts, such as Breckenridge and Panorama, and about a third the size of Whistler-Blackcomb. When completed, it will have 10,000 acres (40 km2), which will make it the largest in North America.
Whitewater
The Selkirks receive plentiful, dry snow, and the location in a high alpine bowl provides an annual snowfall average of approximately 12 m (472 in; 39 ft). The elevation of the parking lot is 1,605 m (5,266 ft) and the highest lift accessed point is 2,000 m (6,562 ft). While Ymir Peak is not included within the ski area boundary, lifts climb both shoulders of the bowl and provide easy traverse routes along ridges to the top. In addition to its snow, the resort is renowned for its tree skiing and steep runs; only 20% of the runs are beginner, while 40% are intermediate and the remaining 40% are advanced. Areas surrounding Whitewater, including West Arm Provincial Park, are renowned for easy access for backcountry split boarding and ski touring.
The resort consists of three lifts: one triple chair lift (installed in 2010), one antiquated double chair, a fixed grip quad chair (installed in 2017), a handle tow, 13 km of Nordic trails, and a lodge with an-award-winning cafeteria, a rental shop and guest services.
Balfour Kootenay Bay Ferry
The Kootenay Lake ferry runs across Kootenay Lake, 35 kilometres east of Nelson on Highway 3A, between Balfour (west side) and Kootenay Bay (east side), 70 kilometres from Creston on Highway 3A.
Kimberley Alpine Resort
It is located in the Purcell Mountains, on the east face of North Star Hill. The ski season starts in mid December and runs until early April.
The resort maintains 80 runs (with 20% beginner, 42% intermediate and 38% advanced trails) and 5 liftsystems: a high-speed quad chair lift (the North Star Express), a triple chair (the Easter), a double chair (the Tamarack), a T-bar (the Owl) and a magic carpet, leading to a total lift capacity of 6,452 skiers per hour.
Optional Heli and Cat skiing opportunities in Revelstoke and Nelson.